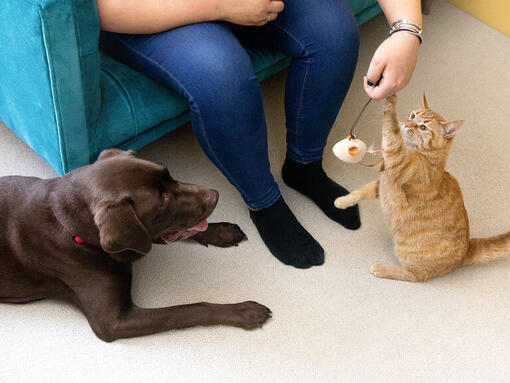 Our Charity Partners
We are proud to support leading charities who share our values, from pet welfare organisations to those promoting pets as practical and therapeutic companions for humans.
At Purina, our passion for pets, as well as our commitment to helping loving pet owners give their pets everything they need to stay healthy and happy, goes far beyond our products.
We also see it as our responsibility to nurture and support deserving causes, to promote the highest standards of pet care, to prevent cruelty and to share our understanding and experience with others.
We are proud to support, in a variety of ways, leading charities who share our values, from pet welfare organisations to those promoting pets as practical and therapeutic companions for humans. Our philosophy is to work together with key charity partners to create programs that bring real, tangible benefits to pets and the people who love them.
Find out more about our three main charity partners here.
Cats Protection
Purina has been supporting Cats Protection, the UK's largest feline cat welfare charity, for over 35 years. We are extremely proud of the long partnership we've created to support the cats in their care and to help the charity in their vision - a world where every cat is treated with kindness and an understanding of its needs. You can find out more about their work here.
Part of our ongoing support includes:
An annual donation which the charity uses towards looking after the cats in their care and towards the re-homing costs of the total of around 40,000 cats that Cats Protection re-home each year – including feeding, caring, any veterinary costs and any re-habilitation needs. The donation can also support Cats Protection's wider charitable aims and/or operating cots
Knowledge and expertise sharing to make sure we are collectively working to make the biggest positive impact on cats everywhere
Sponsorship of the National Cat Awards; a ceremony that recognises and rewards extra special cats from across the country. The fantastic stories highlighted by the awards are why we're so proud to support them – they celebrate and showcase the special bond between people and their pets – something which is extremely close to our hearts at Purina.
DSPCA
The DSPCA (Dublin Society for Prevention of Cruelty to Animals) is the Republic of Ireland's oldest animal charity.   Every year it rescues and cares for animals across Ireland who have been abandoned or subjected to abuse and neglect.   
Purina has been a proud supporter of the Society for over 10 years and some of the ways we support them include: 
Providing the food for the rescued kittens, cats, puppies and dogs in their rescue and rehoming centre and the more than 1,000 pets that go through their foster programme each year. 
Supporting various fundraising and outreach events the Society has in the community throughout the year including the Great Irish Dog Walk and City PET-ACULAR events. 
You can find out more about their work here. 
Canine Partners
Canine Partners is an assistance dog charity that trains dogs to support and help people with physical disabilities enjoy greater independence and a better quality of life. Each canine partner is carefully matched to the applicants' needs and lifestyle, no matter how challenging. Their bond is truly unconditional and unique, bringing many mental health benefits. The dogs are trained to help with everyday tasks such as opening and closing doors, unloading the washing machine, picking up dropped items, pressing buttons and switches, and fetching help in an emergency – often providing a lifeline.
Purina has taken great pride in supporting Canine Partners for over 20 years which includes:
An annual donation to help the charity fund the training and feeding of the dogs
Sponsoring the staff uniform
Supporting the charity at various community fundraising events across the country
You can find out more about the work of Canine Partners here.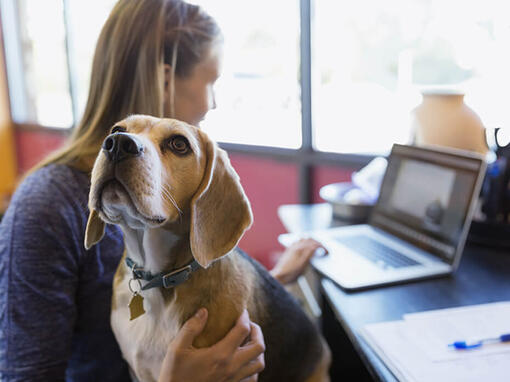 Our impact
Pets at work
We want to help make pet-friendly workplaces a possibility for everyone.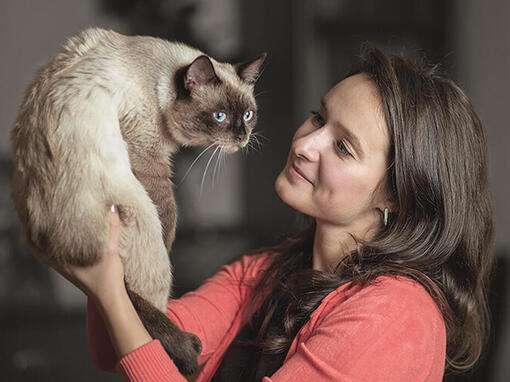 Our impact
Our commitments
We're dedicated to improving the lives of pets and those who love them, which is why we've made 10 commitments to achieve by 2023.