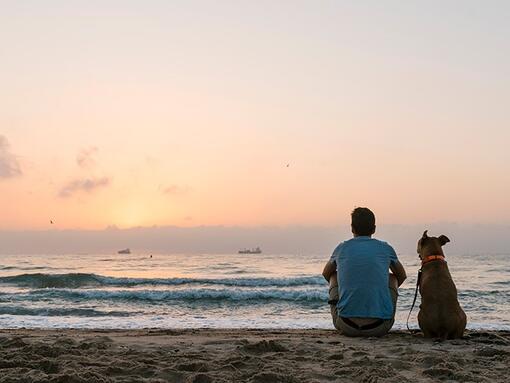 ENVIRONMENT
WORK TOWARDS A WASTE-FREE FUTURE
How planetary boundries have inspired Our Commitment
With our new Purina commitments, we have broadened the scope and set out a new ambition.
Guided by the Planetary Boundaries Framework (Stockholm Resilience Center) we have looked at the areas that our business impacts most and have established targets for 6 out of the 9 planetary boundaries. As there is interconnectivity between the boundaries, our actions aim to positively impact on planetary health holistically to ultimately contribute to the regeneration of our planet.
Our Commitment
Why it´s important
Global production of plastics increased from 2 million metric tons annually in 1950 to over 350 million metric tons today. Of the plastic packaging used for food, including petfood, and beverages, much of it currently ends up in the natural environment, particularly in rivers and oceans causing harm to ecosystems. Although plastic packaging plays an important role in delivering high-quality pet food to consumers in a safe and convenient way, we are looking for new ways to enable the disposal of packaging in a responsible way. Ultimately, throughout our manufacturing process we want to work towards a circular economy. You can read more on what the basic theory of circular economy is below.
Addressing the problem of plastic pollution requires us to take an inclusive and joined-up approach. In line with this we are taking steps in:
Developing Packaging of the Future
Shaping a Waste-Free Future
Driving New Behaviour and Understanding
Going forward we will focus on reducing single-use packaging. We remain committed to designing 100% of our packaging for recycling. By 2025, we expect above 95% of it will be. We aim to also reduce the use of virgin plastics by one third for 2025.
We are working on reducing both the number of different material layers and the complexity of those materials to make our packaging easier to recycle.
Another way to contribute to shaping a waste-free future, is the integration of new circular ingredient solutions into our product portfolio. Products like ​Purina AdVENTuROS where we piloted an initiative in the Netherlands using surplus grains from​ a brewery, that might otherwise have been left to spoil, is an example of helping to reduce waste and making a step towards a more circular economy.
What is a circular economy?
Circular economy solutions are all about reducing waste used in our manufacturing process, This is includes packaging waste and also energy and ingredient waste. For example you might have a compost bin at home. So, when you peel potatoes for your Sunday dinner the peel is not going to waste, but straight into the compost bin where it retains a purpose to help nourish the soil.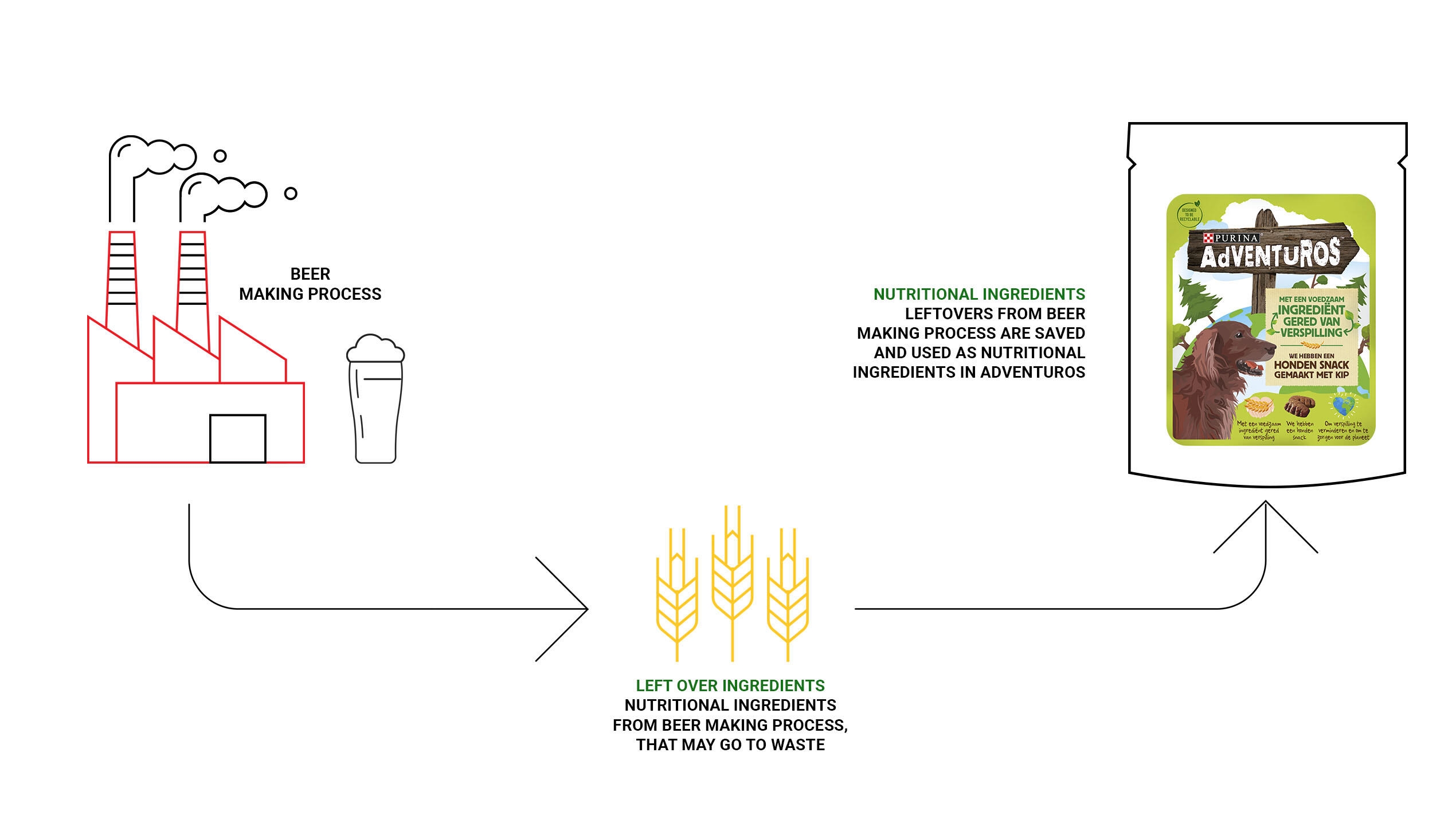 Similarly, we want to make the best use of ingredients. An example of this would be a pilot in the Netherland for Purina AdVENTuROS, where surplus grains from a brewery, that might otherwise be left to spoil, were saved and used in the product, helping to reduce waste.
In the pet food industry we use as well animal by-products in our recipes. These ingredients such as liver and other organs have a high nutritional value providing high amounts of protein among other things that pets can enjoy. Using by-products also means that we are retaining the value of potential waste from the animal agriculture industry, through using ingredients not as frequently used for human consumption.
"We remain committed to designing 100% of our packaging for recycling. By 2025, we expect above 95% of it will be. We are also working towards integrating new circular ingredient solutions within our product portfolio."
Building on Nestlé CSV
Just as we are committed to improving the lives of pets and the people who love them, our parent company Nestlé is committed to enhancing quality of life and contributing to a healthier future for individuals and families, our communities and the planet.
Read more about Nestlé´s shared value commitments
Gourmet Mon Petit Designed to be Recyclable Pouch
In May 2022 we launched our first designed to be recyclable pouch ranges on our Gourmet, Mon Petit range.
This packaging was introduced to 20 countries across Europe, including the UK, Ireland, Belgium and Italy, and marks an important step in Purina's path towards our ambition that 100% of our packaging is designed for recycling. This journey will continue in early 2023 with the introduction of packaging that is "designed to be recyclable" for the Felix Soup range.
These new pouches address a long-standing challenge for manufacturers – how to provide consumers with simpler plastic structures that are easier to recycle without compromising on product taste, quality and safety.
The improved packaging is made of a type of plastic (Polypropylene) which is recyclable in most markets, whilst still retaining the material qualities needed to offer the high quality and safety we pride ourselves in.