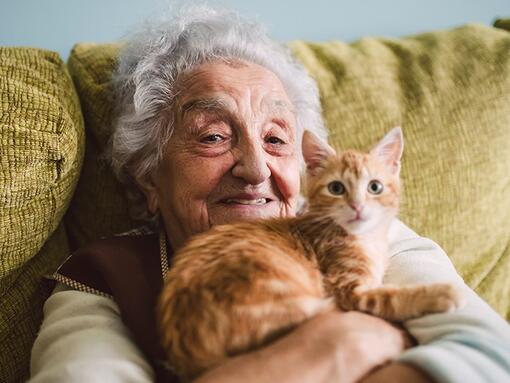 COMMUNITIES
FOSTER PEOPLE'S HEALTH THROUGH THE POWER OF THE PET-HUMAN BOND
Our Commitment
Why it´s important
As part of our ongoing work in our communities we know, and see, the consequences of vulnerability. Nearly a quarter of the global population state that they are without someone to count on for help in times of trouble. In many European countries, around a quarter of the population have reported suffering from at least one mental health condition.⃰ We also know through experience and our ongoing research the power of the pet-human bond has helped many in vulnerable situations.
We have long-standing partnerships in Europe where the pet human bond (via animal assisted interventions, activities or therapies) has helped support children and adults with their physical and mental health needs and delivered positive outcomes. For example, through our support of research in Spain with the Universidad Rey Juan Carlos University and the Hospital Niño Jesús de Madrid into the benefits of therapy dogs with children who have eating disorders we have seen a reduction in anxiety and the symptoms of depression as well as an increase in self-esteem.
We will continue to work with our partners as well as enabling the sharing of best practice and outcomes.
We will also support this commitment via our BetterwithPets Prize to award the most impactful organisations who are leveraging the power of the pet human bond and making a difference to the health and well-being of children or adults in vulnerable situations. You can read more about the BetterwithPets Prize below.
We aim to create a collaborative and inclusive community where we can share and leverage expertise, best practice and tools to to drive positive social impact.
The Purina BetterwithPets Prize
In 2018, we launched the Purina BetterwithPets Prize. This Prize was tied to our fundamental belief that people and pets are better together. We know there is a magic in the pet-human bond that can be harnessed to help drive positive change for the health and well-being of people and communities. The Prize supported entrepreneurs who had developed such initiatives.

StreetVet, from the UK, was the winner of our 2020 Prize. They provide free accessible veterinary care to pets whose owners are experiencing homelessness. StreetVet won 50,000 CHF to support the launch of the first-ever 'pet-friendly' hostel accreditation scheme enabling pet owners experiencing homelessness to be housed with their pets.
From 2023, the BetterwithPets Prize will take place every 2 years with a 2 year grant cycle until 2030. It will focus on recognising and supporting exceptional organisations who are working to foster peoples' health through the power of the pet-human bond and who have a focus on those in vulnerable situations.
Everything about StreetVet for me has been a crazy journey, from an idea – just sticking a backpack on and going out, to this being what I do now every day. It comes down to our volunteers, who are amazing, and the strength of the human-animal bond, because that's why we're all doing it. The best part of this process and StreetVet has been about the people we have met along the way, be it owners with their dogs, or people who have wanted to make a difference.
Building on Nestlé CSV
Just as we are committed to improving the lives of pets and the people who love them, our parent company Nestlé, is committed to enhancing quality of life and contributing to a healthier future for individuals and families, our communities and the planet.
Pets In Hospitals
Through our work with the 'Pets in Hospitals' initiative in Spain, we are supporting therapy dogs to gain access hospitals to help facilitate professionals working with people in recovery. An example of our work is our collaboration with the Niño Jesús Hospital in Madrid and the Rey Juan Carlos University to commission a study on the effects of animal-assisted interventions for adolescents with eating disorders, such as like anorexia and bulimia. From the early results we have seen an increase in patient's 'pleasant emotions' (in being more relaxed, happy or cheerful), improvements to their self-esteem and reduced indicators of anxiety and depression.
We are also collaborating with Hospital Clinic and CTAC (Centro de Terapias Asistidas con Canes) on a research project, looking at the benefits of dog therapies in children with neurodevelopmental disorders. This research looks at how pet-assisted therapy can help children with disorders such as ADHD Attention deficit hyperactivity disorder), foetal alcohol syndrome, post-traumatic stress, and autism spectrum disorder. Throughout the scientific study, data will be collected on the impact that this type of dog-assisted therapy can have on improving self-esteem, self-confidence, social skills and the regulation of the emotional and behavioural issues.