Purina launches its first "designed to be recyclable" pouch ranges in Europe
Purina will roll out the new mono-material pouches, which are "designed to be recyclable", on two of its biggest brands
The shift for the Gourmet Mon Petit and Felix Soup ranges builds on Purina's promise to introduce reusable or recyclable packaging by 2025
These robust pouches can withstand heating and sterilization processes, replacing the non-recyclable, multi-layer alternatives of the past
07 June 2022 – Purina is pushing forward in its plan to make pet care packaging easier to recycle, launching its first full pouch ranges "designed to be recyclable" this year.
Gourmet, the European super-premium wet cat food, will debut the cutting-edge new mono-material packaging with the relaunch of its Mon Petit range, building on a successful year-long pilot study under the Felix brand in the Netherlands.
This new packaging will be introduced in more than 20 countries across Europe, including the UK, Ireland, Belgium and Italy and will be available in stores from mid-May.
This relaunch marks an important step in Purina's path towards 100% reusable or recyclable packaging by 2025. This journey will continue in early 2023 with the introduction of packaging that is "designed to be recyclable" for the Felix Soup range. Felix is the EU leader in wet cat food.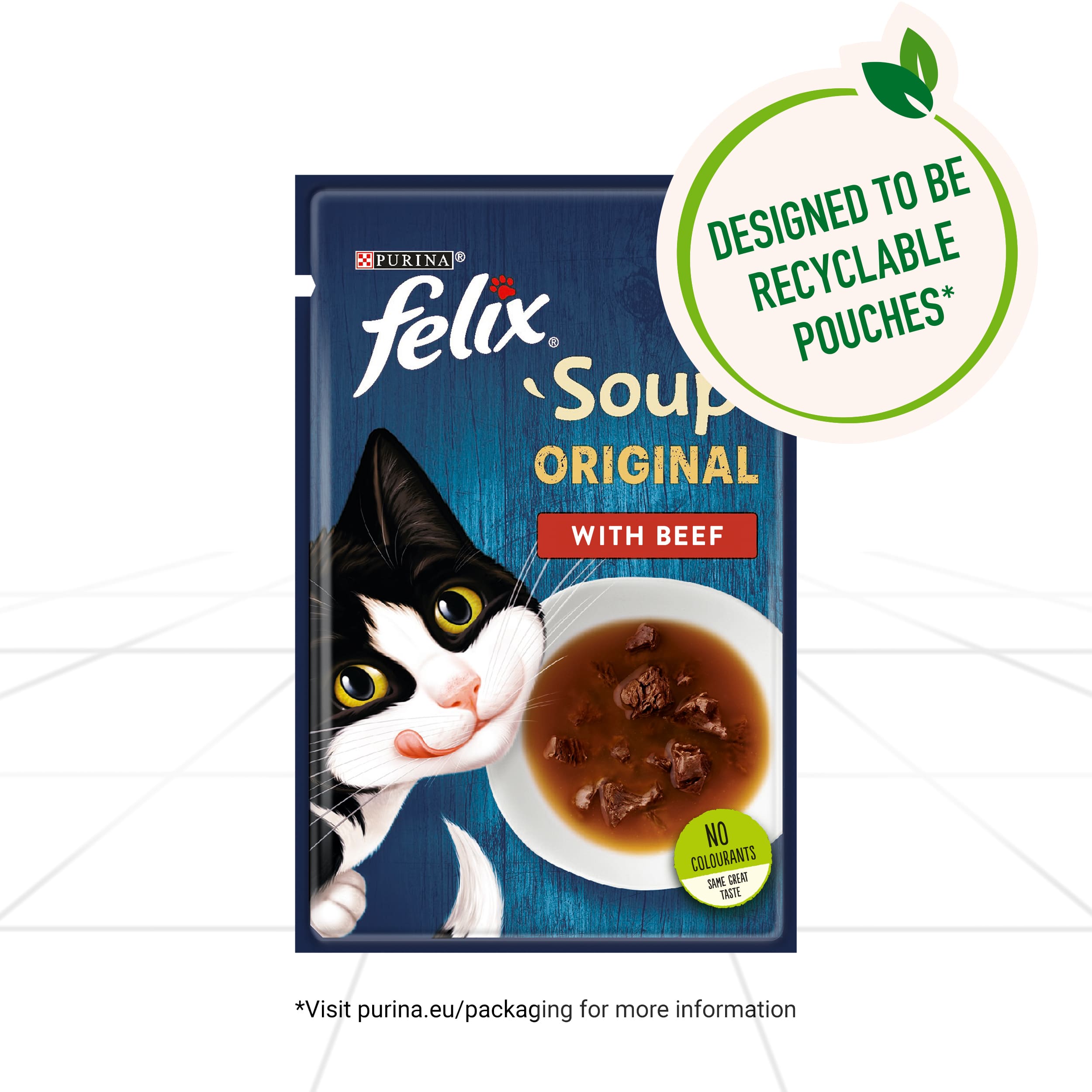 The new pouches address a long-standing challenge for manufacturers – how to provide consumers with simpler plastic structures that are easier to recycle without compromising on product taste, quality and safety.
The improved packaging is made of Polypropylene (PP), which allows the pet food pouches to be designed to be recyclable, whilst being resistant to high temperatures and offering robust protection for their contents.
The pouches will be sold in a cardboard box which itself is "designed to be recyclable" where recycling facilities are widely available. This box will contain 6 pouches with 3 different flavours.
As well as reducing the complexity of packaging, Purina is also exploring innovations including new paper-based materials and piloting reusable packaging systems where customers can bring their own containers to fill with dry petfood.
Nestlé Purina Europe Chief Executive Officer Jeff Hamilton said: "We are proud to be playing our part in creating a world where pets and people can thrive, and initiatives like this support our goal of offering solutions that are better for pets, and the planet.
"This innovation is a significant step forward in our drive to deliver recyclable or reusable packaging on all of our products by 2025.  As one of the world's leading pet care and pet nutrition providers, Purina aims to help create richer lives for pets and the people who love them. This vision extends to the world in which we all live, and Purina is working hard to reduce the environmental footprint of the materials we use."
For details on Purina's environmental vision on waste and packaging reduction, please visit: https://www.purina.eu/our-impact.