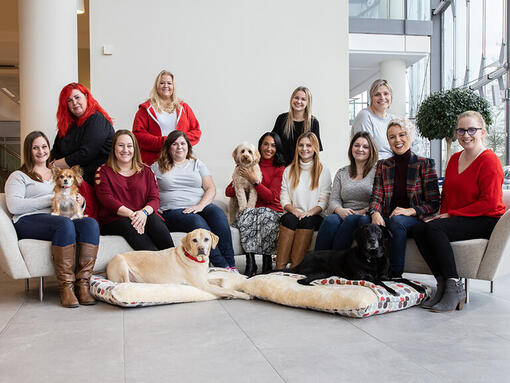 Meet the PetCare Team
Our PetCare Team is made up of experts including vet nurses, behaviourists and pet care advisors who can help answer questions on anything from health & nutrition to our products.

Here for you and your pets.

At Purina, the PetCare Team is a group of vet nurses, behavioural specialists and nutritional experts but most importantly, we're all pet lovers too. We don't just talk to talk to consumers about Purina products; pet owners call us with problems and queries about their pets too, whether it's how much to feed a new puppy or what to do about nervous cat. Between us we have 84 years worth of Veterinary Nurse experience and in our team of 17 people we have 23 furry friends, so we really know the highs and lows of being a pet parent. We feel the same way about pets as owners do; their wellbeing and happiness is our wellbeing and happiness.
Ultimately, we think people and pets are better together.
Team Lead
"I started my career as a PetCare Advisor and now look after our team of consumer-facing advisors. I plan and deliver training for them, ensuring that we have the most recent information to share with our consumers. I am the Mum to two dogs and the slave to two cats! Max my yellow Labrador is an extended member of our team, attending the office with me. Hudson, my springer, joined our family in 2020. What I love about working in Purina is that I am able to get involved in other projects. I'm currently working on Pets At Work, which enables us to have our dogs in the office, and helps other companies start to have dogs in their offices too. Having the dogs with us makes a huge difference to our days, from creating bonds with people outside of our teams to encouraging us to take a break which is great for our mental health. When we say we have our dogs at our feet, we really do!"
Veterinary Nurse
"Hi! I am Aimee and I am one of the Veterinary Nurses on the PetCare team. I have been here for several years now and before this I was back in a Veterinary practice. I handle nutritional questions both from pets' parents and other more complex issues from practices themselves. It is an interesting role and I am fortunate to still use my medicine degree, which is my first passion. My luscious black Labrador is Lily; she's a wonderful companion and having grown up with furries most of my life, its nice to have such a bond with her. She comes into the office with me and greets every passer by with her Monkey; no one can say no to that face!
I am grateful to have this role as it means I can help the team as well as everyone outside it about the health and wellness of pets. It is also wonderful to work for Purina as this company really strives to make the best food, but is also backed by science!"
 
Canine Behaviourist
"Hi, I'm Nicola and I am the Canine Behaviourist on the PetCare team. I've been working for Purina since 2017. My day-to-day role involves supporting the other PetCare Advisors and Vet Nurses with any enquiries they receive on canine behaviour or training, as well as speaking to consumers directly. I especially enjoy helping people with their new puppies and rescue dogs. I've been working with animals in various different job roles for over 15 years and have always had a keen interest in dog training which then lead me to the path of animal behaviour. I have two rescue dogs myself – Blossom the staffie cross and Coda the pug cross (pictured) and we enjoy going for long walks on the beach then cuddling up on the sofa! My favourite analogy for dog ownership is 'Be your dog's best friend'. Look out for them and they will look out for you too." 
Social & Digital PetCare Advisor
"Hi! My name's Emma and I'm one of the Social and Digital PetCare Advisors, so you'll mostly find me on our Social Media channels and Live Chat. 
I've been lucky enough to be part of the Purina family since 2015 and been one of the Social Team since 2017. I have to say, it's never a dull moment working in an office where we can bring our canine pals with us! I'm proud mummy to Eduardo the Chihuahua. He's super nervous so only comes in when the office is very quiet but it's always a treat to see his friends when he does. 
I can't wait to chat to you about your fur babies soon."
PetCare Advisor
"I joined the PetCare team almost 4 years ago; it's been an amazing learning journey with all the wonderful brands and products Purina produce, healthcare, top nutrition training and plenty of team fun! I don't have any pets of my own right now; this will change when I have a larger more suitable home so at the moment I'm being responsible and practical! That said, I have a wonderful relationship with my parents' black Lab Hettie. My family home growing up always consisted of a Lab in the mix and was very much included in our family unit. Hettie is a such a good girl and bright as a button. As well as my day-to-day role, I dabble a little in the marketing side of things, mainly bringing the PetCare Team exciting details of new products and quite often some juicy surprises! It's a hard job, but someone has to do it! They say if find a job you love you will never work a day in your life; this is what I have at Purina."
 
PetCare Advisor
"My name is Caz and I am a PetCare Advisor. I have been with Purina for two years now. I'm a pretend mum to Bubble and Squeak, 2 lovely springers that I am lucky enough to borrow from my friend and have great walks with. I am also the staff to a newly acquired elderly cat called Munchkin, AKA the black blob as she is impossible to photograph! I took Munchkin on during lockdown as she had been in foster care for a year and was 13 with FIV. She has fitted in a treat here and can be regularly heard by consumers calling in as she sits on my desk chatting away whilst working from home. The best thing about being in the Purina office is being with our amazing team and their dogs. I'm lucky enough to have a lap available for little dogs and feet to be warmed by the bigger dogs! They really do make for a relaxed working environment, and are always there to give you a hug or a break when you need it. There is no better office to work from."
PetCare Advisor
"Hi! I'm Lilly and I work as a PetCare Advisor via our social platforms. I have a dog called Teddy who is a Newfoundland cross Standard Poodle, and two cats Ronnie and Ralph. We welcomed Teddy into our home when he was 15 months old, as he 'outgrew' his previous family. He used to be quite nervous but we have all worked through this with him and he has been doing really well ever since! Ralph has the nickname Alarm Clock Cat as he likes to have his breakfast in the early hours, and Ronnie loves a cuddle. I love the diversity of my role, as it allows me to interact with consumers on a really personal level and I am able to build my pet care knowledge too, which I am really passionate about. Working in a dog friendly office is amazing as I get to meet lots of different dogs and their owners too!"