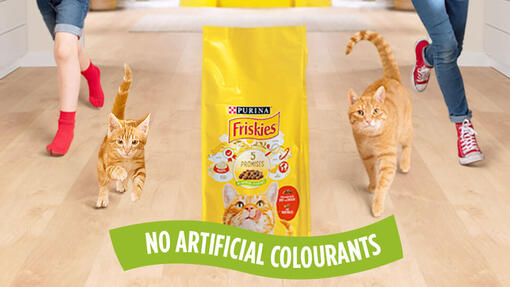 The Friskies 5 Promises
100% complete and balanced tasty cat food for everyday with quality nutrition for your cats' health and happiness.
What are the Friskies® 5 Promises?
From the day you brought your cat home you made a commitment - a promise to keep them happy and healthy throughout their lives. That's why we made 5 promises of our own - the Friskies® 5 Promises. Using our decades of knowledge and expertise, we promise to nourish your pet from the first day and always, with cat food that is both tasty and 100% complete and balanced.
1. NUTRITION
100% complete & balanced nutrition for a happy and healthy life from the first day and always, all while tasting great. At Friskies®, our cat food recipes are made with a blend of animal and plant-based proteins. Proteins are made of amino acids and can be derived from both animal and plant sources. Most protein ingredients don't have all the amino acids in just the right proportion and are therefore inefficient as a sole source of protein. Carefully combining different sources of protein can lead to just the right balance of amino acids. Cats specifically need certain amino acids that are only found in animal protein, so for your carnivorous friends, a mix of animal and plant-based protein gives them the best of both worlds.
2. QUALITY
Our experts perform hundreds of daily quality checks at every stage of production for all our cat food recipes. Finished product checks are just a part of more than 1,400 controls performed daily during the entire process. We carry out over 300 tests every day on all raw materials and packaging materials entering our manufacturing plants. We also perform a further 1,100 checks during the production process and on the finished products. Giving you peace of mind, you are always getting the same high quality food for your cat.
3. TRACEABILITY
We work hard to ensure that all our cat food recipes are made with high quality ingredients, carefully selected from known and trusted suppliers. Our suppliers are selected and audited regularly, so we are sure they comply with our food and packaging safety regulations as well as responsible sourcing and quality.
To ensure these criteria are met, we check our suppliers regularly and request several certifications including:
HACCP certification (Hazard Analysis Critical Control Point) to ensure all safety hazards that can occur in the process are identified and under control;
GFSI certification (Global Food Safety Initiative) to ensure food facilities are processing safe food (this certification is used also for human food processing);
SMETA audit (Sedex Members Ethical Trade Audit) assesses ethical behaviour such as labour, health, safety, environmental and business ethics as well as supplier's future initiative.
4. EXPERTISE
Our expertise in pet food has been well established, which is why all our cat food recipes are developed by our team of highly qualified Purina nutritionists. Ralston-Purina® opened its nutritional studies facility at Gray Summit, Missouri in 1926. Our company has more than 90 years of experience and all our recipes are developed by Product Specialists in collaboration with different experts in Nutrition and Ingredients. But that's not all, we also have experts in Packaging, Regulatory and Processes to ensure you're giving the best to your pet. Most importantly, our nutritionists are experts in their field to ensure that your pets are getting the nutrition they need. When we formulate our cat food, each new recipe development involves vets, ensuring you that your cat's health is our main priority.
5. 2025 COMMITMENT
We work hard to care for our pets, but we also have a duty to care for our planet. In 2018, Nestlé announced its ambition to make 100% of its packaging recyclable or re-usable by 2025. However, without recyclable solutions and streams built at scale, we need time to work towards this since our product is sold across Europe and beyond. We have started our efforts already where some of our packaging is recyclable, but we know we still have a lot to do. We are currently working on more alternatives so please check your Friskies® cat food pack for more information on how to best dispose of our packaging in your country and bear with us as we continue working on being a more sustainable brand